Top 10 Technical Strategies to Find Trending Stocks In India
How To Find Trending Stocks, really sound good. In this article, we will explain the top 7 strategies that help you to find out Trending Stocks.
And also we can trade on these stocks. So let's explore these Techniques
Screener
Use Screener. Free & paid types of screeners are available in this market.
Free Screener – Chartink, top stock research, trading view, moneyworks4me, etc.
Through using this Screener you can find out strategies-wise stock.
Like – Over Bought & Over Sold Stock
Top Strategies 
HEKIN ASHI

CHANNEL

FLAG

BREAKOUT

20 DAYS EMA CROSS

EMA FOLLOW STOCK

PENNY STOCK SEARCH

DISTANCE BETWEEN EMA & CANDLES

52 WEEK LOW HIGH

NSE STOCK GAINERS HOURLY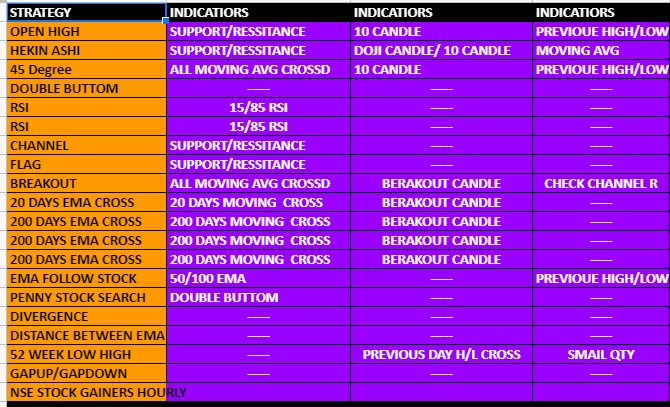 Now Question Is That How Can You Use This Screener.


I also explained separately all of this screener.
Just Include Parameters or filters & run. Automatic filter stocks will show on your screen.
You just found 200 EMA crossover stock. Go to chart ink

Add Filter
Last Close crossedP_Above Latest Ema ( close,20 )

Latest Volume > Latest Ema ( close,20 ) * 2

Latest MACD Line ( 26,12,9 ) > Latest MACD Signal ( 26,12,9 )
https://chartink.com/screener/200-ema-crossover
That is an example.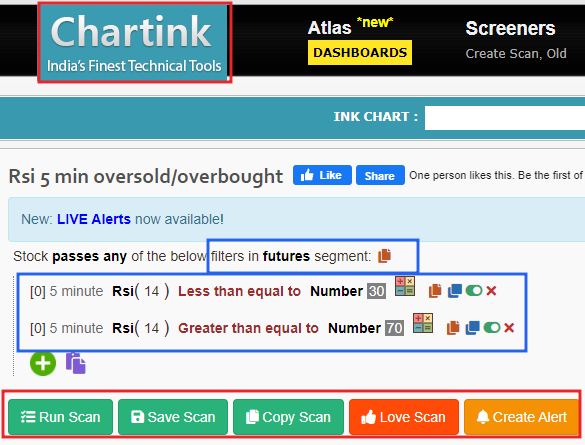 Above I mention different strategies wise chat link (Weblink)
Algo Trading Software
The second strategy is using Algo Trading Software. It's Not a Free.
Currently, most Broker Companies are providing Algo Trading Facility. Very Useful & Easy to Use.
Similarly here you can add Filters like strategies, stock price buy rate, sell rate, average rate, No of Qty, Order position Etc
Algo trading helps you to find out Trending Stocks & Also Automatically will be traded on those particular stocks. (If you set up properly)
Broker may be charged 500-900/- for this Algo Trading Software.
Upstox, Zerodha, Flyers, etc providing Algo Trading Software.
NSE INDIA
Go to Nseindia Website. Note Top Gainers & Top losers Stocks.
Now check those stocks on the technical chart & Find Break out stock from top gainers. And Find Breakdown stocks from top losers.
The next day you can trade on Break out & Breakdown Stocks.
Also, you can find Overbought & oversold Stocks from that.
If you finding Trending Stocks for Intraday. Than Open = High = Low strategy is perfect for that.
Find the stock that's Open Price & Low price both will be same, we can take buy position on this stock for Intraday.
And Also Find the stock that's Open Price & High price both will be the same, we can take a short sell on this stock for Intraday.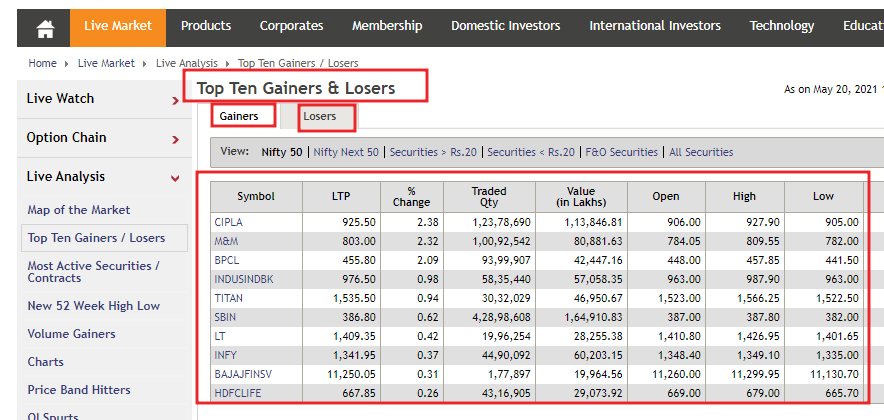 Flag Pattern
Flag Pattern is one of another technical Pattern. Very reliable & working Pattern.
Stocks never run continuously upside or downside.  It's moves like a Wave or pattern. We can enter on every Wave.
As an example
Think Currently SBIN share price 347, huge buyers entry, then stock price run & touch 557. Now stock price consolidating near 354 to 357. We have to wait when stock price break consolidating area, when stock price cross 558, then that is the best to enter or buy.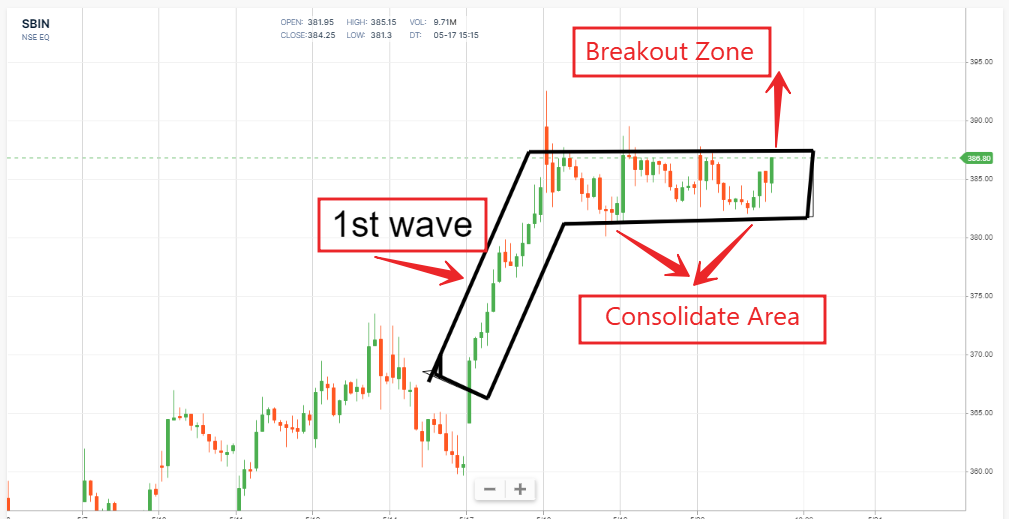 You can check this image; stock consolidates on this particular area, then it moves upside. Every 1 big movement stock will consolidate.
Some Important Articles
Best Way To Earn Money Online Without Investment
Last Word
I hope you like my article "Top 10 Technical Strategies to Find Trending Stocks In India" your knowledge has increased a lot. If I have made a mistake in this article or if you have any questions, feel free to leave a comment in the comments box and I will try to answer your question as soon as possible.